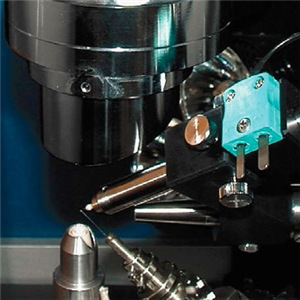 Product name:HEATSTREAM
brand:STOE
Place of Origin:德国
· Temperature range from RT to 1000 K · Temperature accuracy within +/-1° · Heating medium N2 (open flow) · Vertical gas flow for optimal sample heating
As non-ambient methods are becoming increasingly popular, STOE provides a powerful high-temperature attachment for the IPDS II, IPDS 2T and STADIVARI single crystal diffractometer, the HEATSTREAM.
The crystal, mounted on the 2-circle goniometer, is positioned in a precisely tempered N2-flow (δT<2°) from below. The thermocouple is fitted in the closest surrounding of the crystal.
An exhauster with a fan is positioned directly above the crystal and removes the hot gas from the diffractometer´s interior.

Features:
· Temperature range from RT to 1000 K
· Temperature accuracy within +/-1°
· Heating medium N2 (open flow)
· Vertical gas flow for optimal sample heating
AVAILABLE FOR IPDS II & 2T / STADIVARI